Comparison of Mesh WiFi vs Access Points – Which One is Best for Homes

You want fast and consistent Wi-Fi coverage all across your home or office network so you want to compare Mesh WiFi with multiple Access Points network.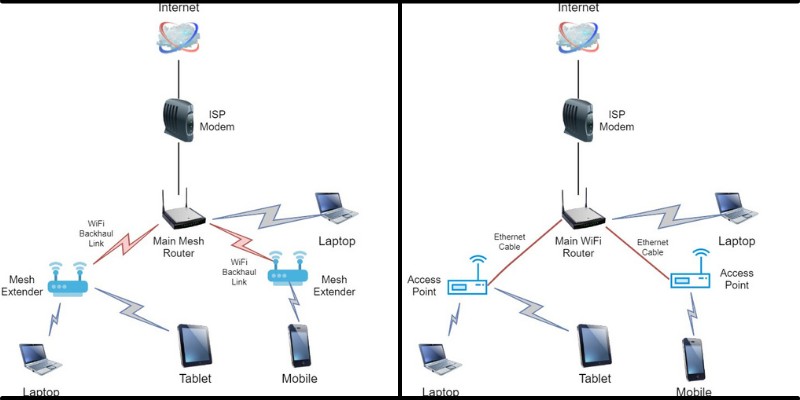 The good news is that both wireless technologies are amazing options that are ready to help you connect to the Internet faster in our always-connected world.
Read more to determine which one wins the battle between Wireless Access Points (WAPs) vs. Mesh WiFi Networking.
What Is Mesh WiFi?
Notable Features
Comes in the form of a main wireless network router unit and 1 or more "satellite" units (or Mesh Extenders).

Creates a wireless "umbrella" in your home so that clients can connect and roam freely to the same

SSID

(WiFi network name).

You must connect the main router unit with an ethernet wire to your ISP modem.

"Satellite" units connect to the main router unit via a wireless high-speed backhaul link (usually in the Gbps range). An important note here is that many mesh WiFi systems allow also "wired backhaul" connections whereby the "satellite" units connect to the main Router unit via Ethernet cables (usually at 1Gbps speed).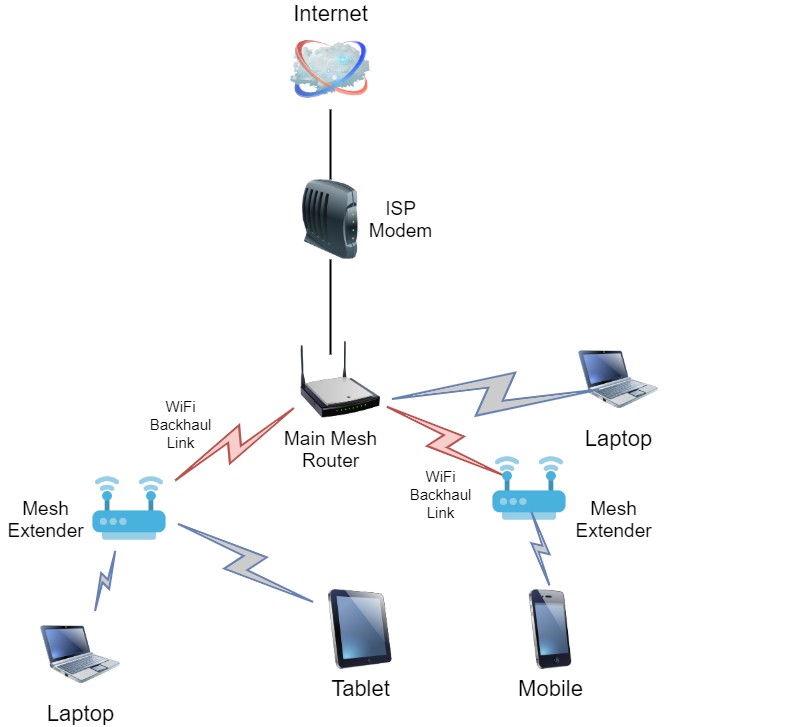 Don't you hate it when you try to access the Internet or stream a video on your smartphone and the connection is dead slow? Isn't it a hassle to switch from room to room just to get a better Wi-Fi signal?
You won't have to worry about all that when you supply your home with Mesh Networking.
Simply put, a mesh network is a wireless local area network (WLAN) that connects ALL the wifi nodes into a single SSID, thus resulting in a stable internet connection for your home.
As shown from the network diagram above, there is a Main Mesh router unit connected to the ISP modem. The "Mesh Extender" nodes (or "satellites") are connected to the main router unit via a WiFi Backhaul link which is a high speed wireless connection (or even with a wired backhaul link via Ethernet).
All these mesh units create a unified WLAN network with a single SSID. Clients connect automatically to the best available wireless unit.

What if My Mesh Setup Encounters Blocked or Broken Paths?
When you compare standard routers and Access Points vs. Mesh networks, the latter possesses the ability to Self-Heal, meaning they can reroute to other functioning nodes.
What are the results mesh routers provide with this so-called self-healing process?
Reliable internet at faster speeds.

Consistent signal strength.

NO interruptions during your surfing session.



Here are some examples of mesh network systems that deliver Fast WI-FI and Better Signal Strength for each household.

Google Nest Wifi

Netgear Orbi Mesh WiFi

Linksys Velop System

Eero Mesh

TP-Link Deco



Pros
Fast Wi-Fi/High-speed internet

Easy and convenient network access

Best WiFi coverage.

The greater the nodes, the better the coverage

Wireless clients can roam freely within the network.



Cons
Expensive price point

Might require more than one mesh satellite unit to eliminate ALL dead spots.

Can be Excessive/

Overkill

if your standard router is working fine.
What Are Wireless Access Points?
Notable Features
Makes use of the WiFi router you already have (NO NEED to buy new hardware).

Access Points are powerful wireless devices that extend signal to

dead spots.

Most suitable for offices and major businesses.

Access Points connect to the main router unit via Ethernet cable which is very fast and stable.

Access Points can support tens of device connections



Another option of extending the wireless signal in your home network is by using Wireless Access Points (WAP or simply AP).
As shown from the network diagram above, we have again a main WiFi router which is connected to the ISP modem. This is usually a regular WiFi router. It does not need to be an expensive mesh device.
Now, in order to extend the wireless signal of the main router, we have Access Point units which are connected to the main router using an Ethernet Cable. The AP devices are connected to the LAN ports of the main WiFi router.
Regarding networking, the Access Point usually works as a Layer 2 bridge which means that clients receive IP address directly from the main Router (via DHCP) and not from the Access Point.
In other words, the DHCP service is provided by the main WiFi router and not from the APs.

Why Are Access Points Preferred in Most Businesses?

WAPs are the most sought out mode of wireless connection among employers and employees in the workplace.
Here are some problems you and your officemates will have to deal with if you settle for either a range extender or standard Wi-Fi router:
They can only cater to

a certain limited number of wifi clients (around 20 devices).

Range extenders only offer LIMITED Available Bandwidth.
Online meetings and large conferences require you to stay connected 24/7 with many clients connected simultaneously, so any of these issues may be detrimental for you and your team.
Did you know that Access Points allow up to 60 connected devices or more?
That is because when you move around, your device will change from one access point to another, thus reducing Wi-Fi traffic and maintaining a high-speed Internet connection.
You won't have to search for a new network or use mobile data to get back to your virtual meeting.
Here are some examples you can choose from.
UNIFI Ubiquity Access Points

Netgear WAC104

TP-Link Omada EAP225 Gigabit Ceiling Mount Access Point
Boosts the signal of your existing network.

Access Points can be powered up by Power over Ethernet (PoE),

Allows equal signal strength for more than one device.

Wide transmission range.

Smooth transition of each access point delivers flexible networking.

Cheaper and more cost-efficient than a wired LAN or a mesh system.
Cons
More difficult to set up.

Overlapping of channels and networks might take place. You will need to change WiFi channel manually for each AP so it doesn't overlap on the same channel as the rest (to avoid interference). However, this is a one-time setup issue. Once you configure the WAP properly, then handoff of wireless signal from one AP to another will be seamless just like mesh systems.

You must be careful with LAN IP addressing. DHCP (IP assignment) must be provided form the main router only.



Wireless Access Points vs. Mesh Wi-fi Router: Side-by-Side Comparison
We don't blame you if you still have trouble differentiating the two Wi-Fi technologies.
They may perform the same role of providing stable network connectivity, but there are some differences as well.
Both offer advantages over one another, so please take this section with a grain of salt. After all, your preference should be based according to your home settings and your own network needs.

Category 1: Wi-Fi Speed
Ah yes, Wi-Fi speed (aka EVERYONE's BEST FRIEND today). If this is a non-negotiable characteristic for your household, you are in great hands with both technologies.
Whatever you do, DON'T GO for a range extender. Sure, it can deliver much-needed Wi-Fi connectivity to a dead spot, but it splits the traffic from your router in HALF.
The result: SLOW and LAGGY network connection!
Both Access Points and Mesh do a spectacular job bumping up the Wi-Fi signal for your home. However, the advantage will have to go to the Access Points.

The main difference between a WAP and mesh networks is this:
Mesh systems utilize wireless nodes connected via WiFi,

thus resulting in SOME delays or speed degradation to your wireless signal.

Unlike mesh wifi,

WAPs are hardwired to the main router, meaning they DON'T HAVE to hop from one node to another and also Ethernet as backhaul is faster compared to wireless backhaul.



Winner: Wireless Access Points (WAPs)
We'll have to give WAPs the upper hand over their mesh counterparts for this category.
REMEMBER: one of the objectives of this side-by-side comparison is to help you look for a device that speeds up the signal of your Wi-Fi network.
So if speed is at the top of your priorities, access points are the way to go.

Category 2: Easy Installation
When choosing between the two Wi-Fi providers, you need to ask yourself, "How easy it is to set up my whole WiFi network?"
In short, will it be a walk in the park or a pain in the ass?
This may seem like an overlooked category, but you DON'T WANT to spend hours upon hours just setting up your devices.

Winner: Mesh Network Router
One major asset most home routers possess is the easy setup process. The mesh network router is NO DIFFERENT.
It's just a simple plug-and-play procedure that does not require any extra wires whatsoever. You just switch-on the main router and then the mesh extenders synchronize automatically with the main router.
WAPs require more tinkering and tweaking here and there, so the setup time may be time-consuming. Moreover, you need to connect the WAP units to the main router via ethernet cable. Also, with WAP you will probably need to change manually the WiFi channel of each device so they don't overlap with the rest.
When setting up your mesh network, all you have to do is find an ideal spot, keep your devices within range, and you're good to go.
These reasons prove that mesh networks are easy to set up, making it our clear-cut WINNER for this category.

Category 3: Range and Number of Connected Devices
Last but not least, we have to look at the RANGE of your wireless network!

A wireless network will end up being ALMOST USELESS if it cannot provide top-tier service for every room in the house.
Thankfully, both the wireless mesh router and WAP do an excellent job giving your household this much-needed range.
However, there is one that stands out over the other.

Winner: Wireless Access Points (WAPs)
We will have to give the advantage on WAPs because they allow equal network connectivity for every device. Moreover, if you can run ethernet cables in your building and connect an AP device to each cable, this means you can cover the whole building without loss in signal strength.
A mesh system is STILL NOT a bad option, but you might need extra mesh extenders and maybe even additional Wi-Fi satellites to cover the dead spots.
REMEMBER: WAPs can connect up to 60 DEVICES each.

This fact alone more than decides the winner of the range department.

Are There Any Alternatives to These 2 Options?
The mesh system router and WAP are two great options to beef up your wireless network, but you DON'T NEED to limit yourself to these two.

Wi-Fi Range Extenders
If you are looking for a cheap alternative, you may want to go for a Wi-Fi extender. Here's what it does:
Connects to the main router.

Re-broadcasts the Wi-Fi signal from the main router.

Widens the coverage but speed is dropped in half

.





The setup procedure is also not too difficult. All you have to do are the following:
Plug your range extender into a power socket.

Link it to the existing SSID wireless network of the main router.

Run the

wizard setup process.



Final Verdict: Who Wins the Matchup?
Based on the side-by-side comparison, it appears that Wireless Access Points take home the victory.
Its advantages in SPEED and RANGE are assets that you would love to have in your household.
However, this DOES NOT mean you should disregard the mesh router.
There are special situations and conditions that should help you decide when to pick one over the other. Let's take a quick look at these.

Go for Access Points IF…
You already have ethernet network cabling running in the house (or you are planning to install such cabling).

You have A LOT of devices.

You live in a large house or office full of employees.

You want to have the best speed possible.



Use Mesh Systems IF…

You are looking for modern routers.

You live in a small to medium home or apartment.

You don't have ethernet wires in the house.

You want easy installation setup.

You don't want to keep switching Wi-Fi networks (a mesh network offers the same SSID everywhere) or mess with changing the devices channels manually.



NOTE: With a mesh WiFi system, you will have the same SSID and password and seamless roaming from room to room without changing anything on the devices. With APs, you can have also the same SSID and password configured on all APs in the network so you won't have to change SSID when moving to another room. However, with APs you must change the WiFi channels of each device manually so they don't overlap with the other APs in the network (e.g use channel 1 on the main router, channel 6 on AP1 and channel 11 on AP2 for example).
It is a matter of personal preference when narrowing down each option's pros, cons, and conditions.
Hopefully, we enlightened you with the differences between mesh and Access Points, and may you buy the one that will remedy all your signal problems.